All facials include a complete consultation so as to customize the treatment to your skin's unique needs and concerns such as acne prone skin types, sensitive skin, aging skin, or hyper-pigmented skin. We use Eminence Organic products in all of our facials. To book an appointment with us call 602-295-2278 or use link above to book online.

Signature Yes Organic Facial
Includes steam, cleansing, exfoliation, a customized masque, eye treatment, and hydration. Enjoy a relaxing face, neck, and arm massage. Finished with complimentary after-care Organic sun protection.
$85 – 60min

Exfoliation Facial
For anyone concerned about brightening hyper-pigmentation and reducing signs of aging. This is a natural and effective alternative to microderm-abrasion. This treatment uses a diamond tipped exfoliator to buff away dead skin cells, promote collagen rebuilding and diminish fine lines. Includes everything listed above in the Yes Organic Signature Facial.
$95 – 70min

Yam & Pumpkin Pro Enzyme 20% Peel
Accelerate the exfoliation process with this enzyme peel that removes dead skin cells, reduces the appearance of pigmentation, fine lines and sun damage. This delicious purée of yam and pumpkin leaves skin looking firm and radiant. Includes everything listed in the Signature facial.
$95 – 70min
Eight Greens Facial
This treatment targets hormonally imbalanced skin with a powerful blend of antioxidant rich and anti-inflammatory ingredients. This facial is perfect for anyone concerned about preventing breakouts and promoting a healthy youthful appearance. The Eight Greens Phyto Masque hydrates and firms while also normalizing oily skin, followed by a masque customized to fit your skin's needs.
$95 – 70min

Mangosteen Lactic Acid Pro Peel Treatment
Elevate your complexion's natural glow with the help of our proprietary Lactic Acid Complex paired with antioxidant-rich "super fruit" Mangosteen. Ideal for all skin types, this deep-cleansing facial gently resurfaces your complexion, minimizes pores and refines skin tone, delivering visibly glowing, luminous results. Includes everything listed for the signature facial, and an additional masque customized for your skin's needs.
$95 – 70min
Effleurage Facial
A specialized facial that incorporates acupressure and massage to stimulate lymphatic drainage, heal, and promote firming and plumping of the skin. Includes cleansing, exfoliation, and Firming masque, finished with a potent and nourishing skin and eye nutrient serum. This treatment not only firms but provides skin with nourishing vitamins, antioxidants, and essential fatty acids to promote collagen and elastin renewal.
$95 – 70min
Arctic Berry Peel and Peptide Illuminating Treatment
This decadent, results-oriented facial layers three uniquely formulated products that work harmoniously as an advanced resurfacing treatment. The breakthrough Arctic Berry Peel & Peptide Illuminating System also targets blemishes, uneven skin and fine lines to reveal a new level of luminosity to your skin. Deep exfoliation combined with a botanical peptide infusion delivers an instantly younger-looking, glowing appearance and is suitable for all skin types. Includes an additional masque customized to your skin's needs.
$95 – 70min

Acne Advanced Pro Treatment – Salicylic Acid Peel 15%
Treat your acne naturally with this botanical-rich facial, packed full of organic ingredients that specifically address acne conditions such as excess oil, hyperpigmentation and scarring. Potent time release encapsulated salicylic acid deeply penetrates pores to dissolve excess build-up, powerfully cleaning out blackheads and preventing future congestion. This professional-only concentrated peel delivers active salicylic acid for maximum results without irritation.
$95 – 70min
Clear Skin Treatment
This treatment focuses on detoxifying the skin and reducing the appearance of irritation and clogged pores. This facial is great for acne-prone, oily, and combination skin types. The Clear Skin range of products are formulated with ingredients such as tea-tree oil, shea butter, willow-bark extract, and probiotics to refresh and soothe. This treatment is similar to the Yes Organic Signature facial but allows more time for extractions and deeper exfoliation.
$90 – 70min
Microgreens Detox Facial
This treatment is targeted to combat hormonally imbalanced skin and reveal visibly stronger, revitalized skin. Includes a double-cleansing with Stone Crop Cleansing Oil and Stone Crop Gel Wash, toning, exfoliation, hydrating eight greens phyto mask (regular or hot) and eye treatment, neck and arm massage, and Stone Crop Serum Application.
$95 – 70min

Pumpkin Latte Hydration Facial
Comfort your skin with a dreamy puree of fresh pumpkin, rich in beta-carotene. This envigorating facial fights the effects of environmental stress on your skin. Infused with pumpkin seed oil, this masque restores dry skin and promotes natural moisture balance with Vitamin E and Omega 9.
$95 – 70min
Eminence Back Treatment
A facial for your back! Includes cleansing, exfoliation, and a masque customized to fit your skin's needs, extractions, and hydration. This treatment is perfect for preparing your skin for swim suit and tank top weather or just an excuse to pamper yourself!
$80 – 45min
Strawberry Delight Ultra-Hydration Facial
Delight and uplift your senses with fresh strawberry and rhubarb. This facial has a blend of unique Botanical Hyaluronic Acid Complex to lock in skins moisture. Experiece the secret to glowing skin and deep hydration that will leave your skin radiant. Infuse your skin with delicious, weightless moisture for a visibly smooth, plump, and radiant complexion.
75min – $115
The Gemstone Energizing Facial
This specialized facial uses a combination of Emenince organic products especially formulated to energize your skin. This trasformative facial utilizes the power of turmeric, hungarian paprika, citrine gemstones and zeolite. This spicy golden powder transforms into a fluffy mousse bursting with energy. Embrace the warm, exfoliating sensation and reveal silky luminous skin!
70min – $110
Gua Sha Stone Treament
This method of manual lymphatic drainage comes from ancient China and Egypt. It was designed to relieve tension and tone the facial muscles, boost circulation, and encourage the movement of toxins. The slow, deep pressure of the stone is relaxing and grounding and allows for tremendous tension relief. This treatment will leave your skin feeling and looking rejuvinated, tighter and lifted. This is perfect to add to any of our luxury facials.
$23 
Organic Eye Treatment
This decadent treatment specifically focuses on the delicate skin around the eyes. We use our extensive line of Eminence eye moisturizers, masques, and serums to combat dark eye circles, fine lines and wrinkles, boost collagen production, and infuse the skin with antioxidants. This is a perfect treatment to add to any of our luxury facials.
$25
Clinical Facial Treatments
Microdermabrasion
This specialized treatment uses a fine diamond tipped instrument to deeply exfoliate and remove the top layer of dead skin cells. This cell renewing treatment tightens pores, brightens and clears the skin on a much deeper level; increasing collagen 
production resulting in a youthful, renewed 
glow.
 Microdermabrasion treatments diminish the appearance
 of dull, textured skin, tackling fine lines, wrinkles, and acne scars. This treatment is followed with our soothing Calm Skin Eminence products leaving your skin radiant and revitalized. 
$115 – 60min
Galvanic Facial Treatment
This unique treatment uses direct electric current to improve absorption of water-soluble skin care products making this a great choice for dry or dehydrated skin.  While also combating pore congestion by reducing oil build up preventing acne breakouts. This procedure reduces the appearance of dull skin, age lines, wrinkles, and acne; producing a brighter, firmer, and clearer complexion. We pair our Eminence line of skin care products with this rejuvenating treatment to acheive your specific treatment goals.
$115 – 60min
High Frequency Treatment
This exhilarating facial utilizes a high frequency electric current that produces enriched oxygen molecules, creating an anti-bacterial action and a slight natural tissue warming. This helps increase circulation and cell renewal, increasing collagen and elastin production. This treatment is perfect for treating active/cystic acne, fine lines, wrinkles, puffy eyes, and dark under eye circles. We pair this treatment with our Eminence line of skin care products to accomplish your skin care goals.
$115 – 60min
Dermaplaninging Facial
This brightening facial utilizes a patented exfoliating blade to gently remove the top layer of skin cells. Dermaplaning combats many harsh environmental factors such as UV rays, general pollutants, and chemicals in products as well as helping to reduce the appearance of fine lines, wrinkles, acne scars, pitting caused by acne, and removes fine hairs (peach fuzz) on the face. We have combined this treatment with an amazing Eminence facial, leaving your skin looking and feeling brighter and more radiant than ever!
$140 – 90min
Dermaplaninging Treatment
This is a shorter treatment , still incorparating our Eminence products including cleansing prior to the treatment, moisturizer and sunscreen following. A great treatment to book for a quick spa day that will leave your skin looking and feeling instantly radiant!
$95 – 60min
Glycolic Acid Peel
Glycolic Acid, also known as Alpha Hydroxy Acid (AHA), is a chemical exfoliant originally sourced from sugarcane and used for beautification by ancient civilizations. This is  applied to the face to remove the uppermost layers of skin producing smoother and more youthful appearing skin. Our glycolic acid treatment combats dark spots, wrinkles and fine lines also producing less oily and acne-prone skin. This treatment leaves you with fresh, renewed, and glowing skin! 
$125/30min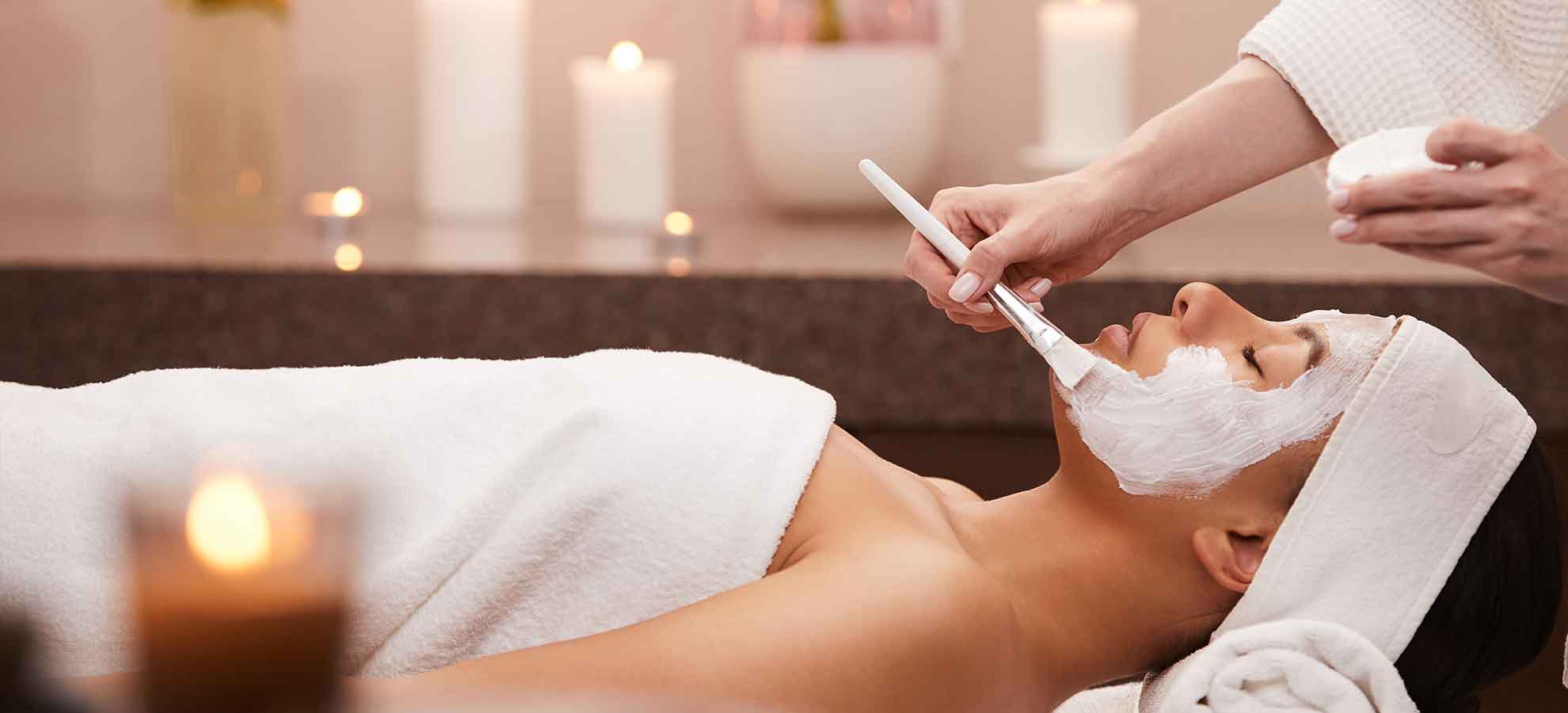 Organic Eye Treatment
$25